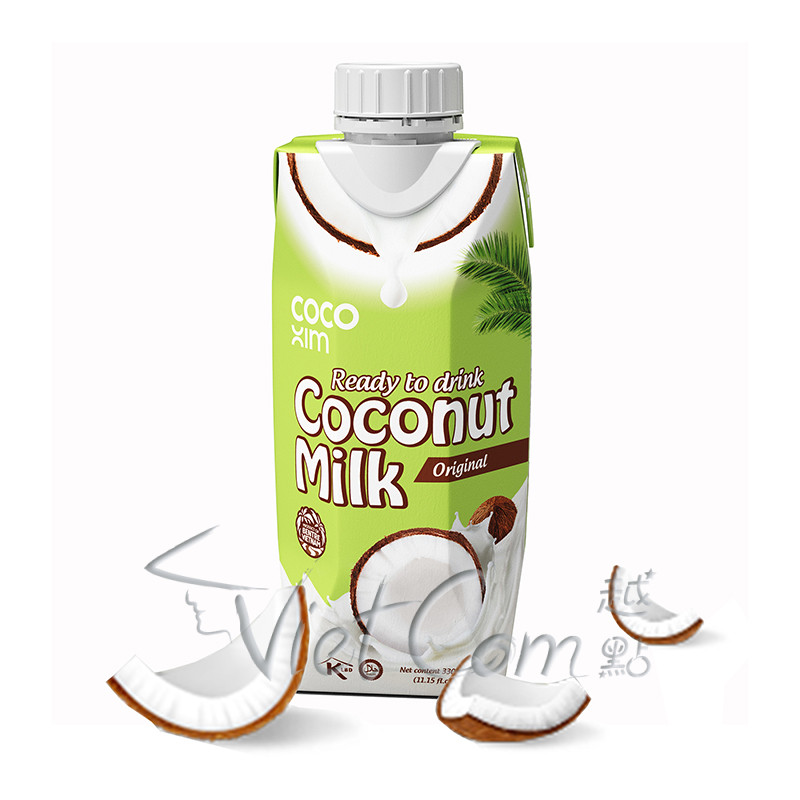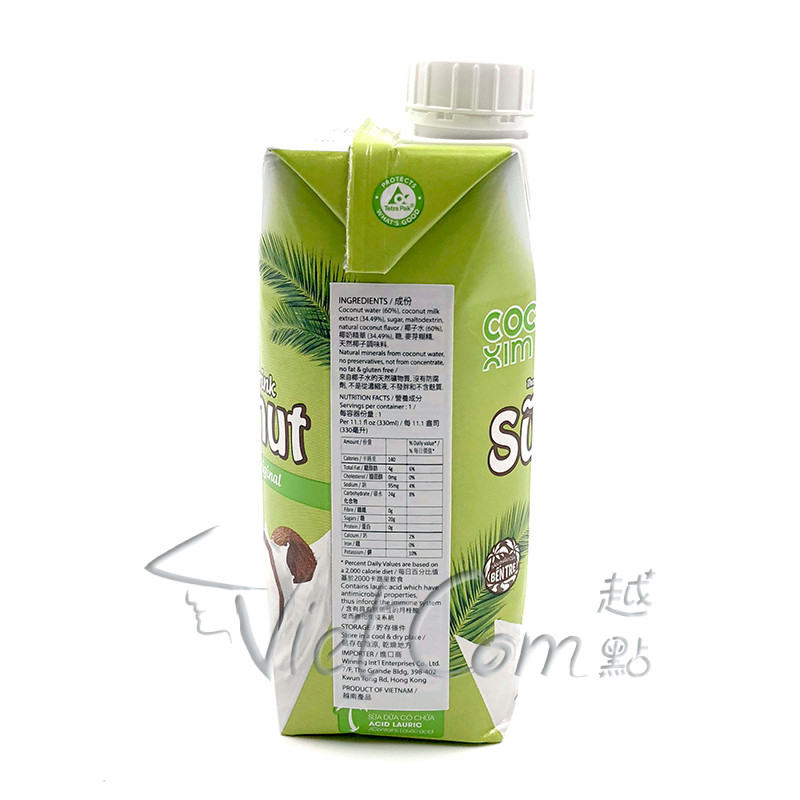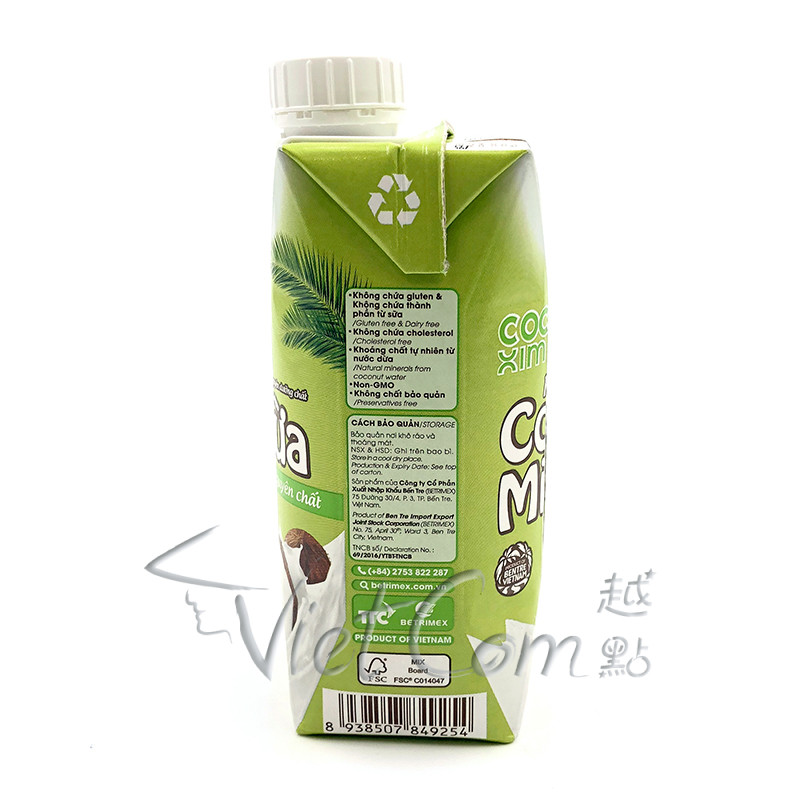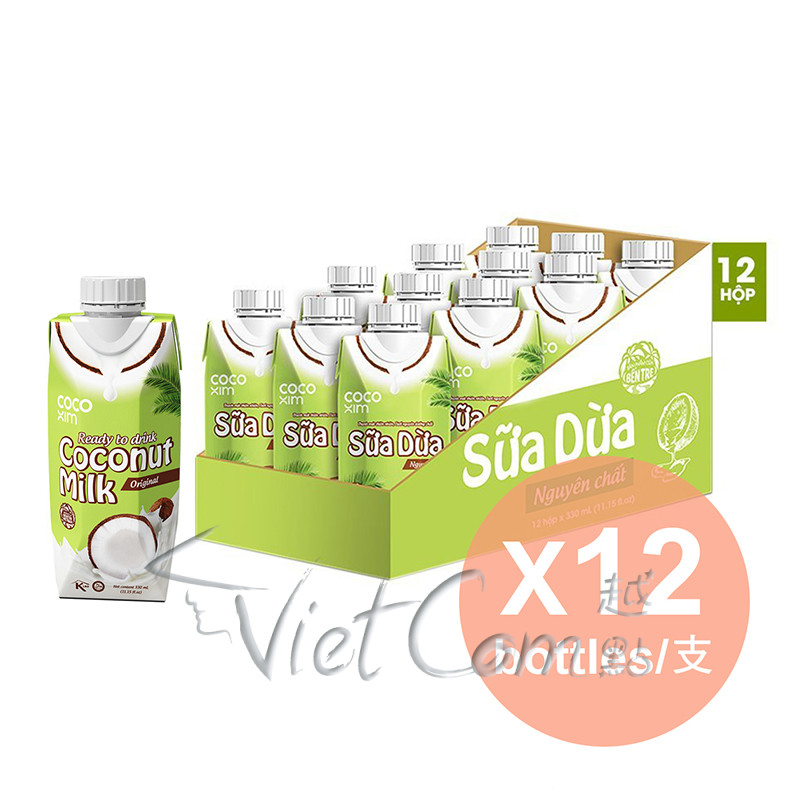 Out Of Stock




CocoXim - Coconut Milk Original【Full Case 330ml x 12】
Stock:

Out Of Stock

Capacity:

330ml

COCOXIM
Made by 100% coconut cream from high-quality mature coconut flesh & pure coconut water. It is lactose-free, gluten-free and contains no cholesterol, while giving you all kinds of natural nutrients and minerals, also provides Lauric acid - an antibacterial acid – which is only in coconut milk and breast milk to increase the body's resistance. High in essential nutrients, minerals & vitamins.
Processing coconut milk by UHT – the state of the art technology which maintains its freshness and nutritive, extends up shelf-life of product without any preservatives.

The benefits of coconut milk are many:
1) Coconut milk is nutritious
Coconut milk is nutritious, with vitamins B, C, E, calcium, iron, magnesium, potassium. Nutrients such as zinc, phosphorus, and lauric acid.
2) Help to keep fit
Drinking coconut milk is helpful for weight loss. Coconut milk is rich in medium-chain triglycerides (MCT), Medium-chain triglycerides can increase energy expenditure and promote weight loss and waist circumference less, can also balance intestinal bacteria, to avoid obesity caused by imbalance of intestinal bacteria.
3) Enhance body resistance
Coconut milk can enhance the body's ability to resist inflammation and pathogenic microorganisms. Coconut milk. Rich lauric acid, which can be converted into glycerol-laurate in the body, there is Antiviral, antibacterial and anti-inflammatory effects. Some studies also found that Laurel. Acid can cause the death of breast cancer and endometrial cancer cells, inhibit cancer cells increase.
4) Does not affect cardiovascular
Some people think that coconut contains saturated fat, which will increase the risk of cardiovascular disease. its in fact, most of the fat contained in coconut is medium-chain saturated fatty acids. Although saturated. Fat is often stored in the body, but medium-chain saturated fatty acids are metabolized quickly and easily digested change. Research published in the Journal of the American College of Nutrition in recent years also shows that eating coconut may not cause any harmful effects on the cardiovascular system.
5) Skin care
Traditional medicine uses coconut milk to maintain skin and relieve burns and sunburns. It is also used. Apply to the hair to make the hair smoother and moisturized and reduce dandruff.